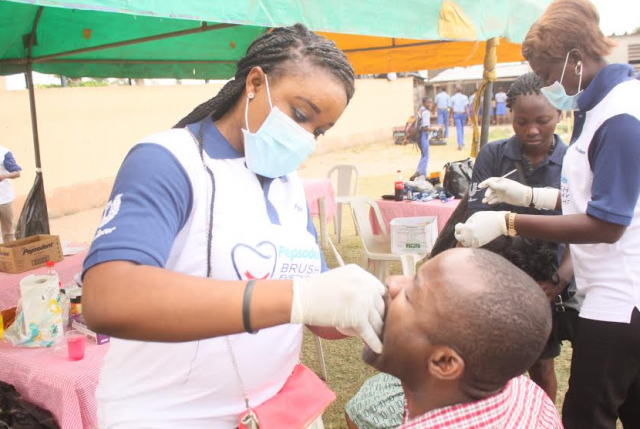 With 9 in 10 tooth decay untreated in Nigeria, dental experts at Pepsodent community dental outreach advised Nigerians to brush day and night using fluoridated toothpaste in order to prevent tooth problems.
The oral awareness outreach, carried out in partnership with the Nigerian Dental Association, is part of activities to mark the World Oral Health Day on Friday, March 20th.
Pepsodent, leading family toothpaste, seeks to reach ten million children in Nigeria with a view to imbibing good oral hygiene & dental care to guarantee that their teeth lasts a lifetime, and enhance their overall health in their old age.
The free dental treatment took place across the nation with dentists visiting Methodist Senior Secondary School, Badagry, Government Technical College, Ikorodu, Lagos, among others on Tuesday and Wednesday this week.
Speaking during a counselling session to students and parents in the communities visited, Dr. Kolawole Obagbemiro, Secretary General, Nigerian Dental Association, said that the rationale for this was to encourage families and individuals on the need to take care of their mouth.
"To stay healthy, the mouth needs to be healthy. We encourage families and individuals to brush twice daily – day and night – with toothpaste containing fluoride which can prevent tooth cavity. We have recommended Pepsodent toothpaste.
"We also advice reduction in the consumption of sugary substances such as snacks, chocolates and sweets, among others. If these are reduced, in effect, there will be less chances of dental problems.
It is recommended that we change toothbrush every two months and to use toothbrushes with medium toothbrush. Some of the students asked if they can combine chewing sticks and toothbrush. But we advised them to use toothbrush and toothpaste that contains fluoride," he said.
Taking a proactive step to assist the students and parents at the free dental treatment imbibe the culture of a healthy oral profile, the beneficiaries got free pack of Pepsodent Toothpaste and Toothbrush.
The Pepsodent Toothpaste is available in two variants: Cavity Fighter which combines the dual technology of micro calcium & fluoride to repair tiny holes that cause cavities/tooth decay and strengthens the teeth.
While Triple Protection delivers three benefits of – Anti cavity, White teeth and Fresh breath in just one Brush.
Pepsodent enjoins Nigerians to be part of the World Oral Health Day (WOHD) taking place at the Unilag Indoor Sport Complex on Friday. Also, you can join the conversation on Facebook @ www.facebook.com/pepsodentnigeria with the hashtag – #BrushBrush.