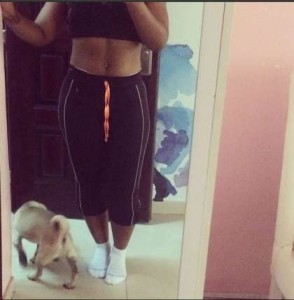 Famous Soundcity VJ, Moet Abebe who is allegedly engaged is showing the world that hard work pays.
Moet posted a couple of pictures revealing her fit body and also added one, a close up of her sweaty b**bs for good measure.
You shouldn't be surprised that Moet likes to show off her body.
In a recent interview, Moet who has now dabbled into acting says there is nothing wrong with indecency as long as it is done tastefully.
" I do believe that there's tasteful indecency" she said in her interview with Vanguard.