Report from Federal Ministry of Water Resources.
Outgoing Minister of Water Resources, Mrs. Sarah Reng Ochekpe has called on the incoming administration to complete the existing water projects before initiating new ones.
Mrs. Ochekpe made the call on Monday 25th May, 2015 in Abuja, while presenting key achievements of her Ministry from 2011 to 2015 and unveiling National Water Resources Information System (NAWIS) logo/web-portal.
The Minister said there was need for the incoming administration not only to continue with the transformation in the water sector, but also to ensure that all the ongoing water projects across the country are completed.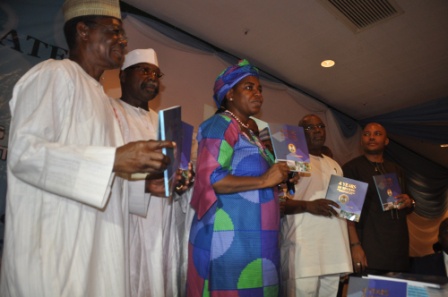 The Hon. Minister of Water Resources, Mrs. Sarah Reng Ochekpe presenting her four years achievements in Ministry of Water Resources in Abuja on Monday 25th May 2015 with her are the Chairmen of Board River Basin Development Authorities.
She said, during the period under review, the Ministry has completed about 55 dams (9 large, 11 medium and 35 small with capacity to impound about 2 billion cubic meters of water). She added that the Ministry initiated 173 new dams of various sizes across the country, now at various level of completion.
"It is our expectation that the incoming government would build on what we have done and not jettison them and start new ones." I believed that in the course of governance of Nigeria, we should always see it as a relay where those who are to take the baton from those who are going will continue the race from there, not to go back to the starting point. I think as a country we always attempt to go back to the starting point and that never really progress in the relay. We hope that the incoming government will not be taken away with such syndrome, it will not help us as a nation", she added.
Mrs. Ochekpe said, in partnership with River Basin Development Authority the Ministry was able to develop over 12,000 rural water supply facilities across the country.
While speaking on the National Water Resources Information Management system (NAWIS), Mrs. Ochekpe said, she observed that there was inadequate and inconsistent data in the Ministry, therefore, the need for establishment of a reliable water resources data management system that will stand the test of time.
She said the objective of NAWIS is for the Ministry to have a repository of information for water resources activities in the country.
"The Data Bank that is being established shall be interactive in servicing the public and private sector with comprehensive, coordinated, reliable and timely data on water resources for planning, policy formulation, programmes and projects monitoring and evaluation."
The Minister urged those responsible for the establishment of NAWIS to put up their professional best to achieve the sets objectives.
All Directors in the Ministry and the Chairmen, Board of River Basin Development Authorities commended the Minister for her visionary leadership that led to the success of the Ministry in past four years.