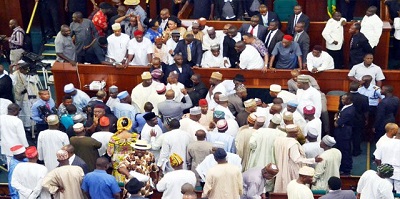 The feud among members of the House of Representatives that degenerated to fracas during Thursday's sitting would not affect the lawmakers' agenda, Timothy Golu, who represents Pankshin/Kanke/Kanam Federal Constituency in Plateau State said in Jos on Sunday.
He said the House has already agreed on a legislative agenda whose speed will not be affected by the inability of the party with the majority to decide on its leaders.
"Contrary to what outsiders think, we had already agreed on the recess; it was not necessitated by the fracas.
"After agreeing on the agenda, members were merely allowed to go home to consult before coming to begin real representative duties.
"There are areas we agreed that required some inputs from our constituents, so we had to return and gauge their opinion so as to ensure quality contributions that would serve our purpose as true representatives", Mr. Golu said.
The lawmaker then advised the All Progressives Congress to quickly resolve its internal issues to ensure a peaceful and united house, and cautioned against allowing the disagreements to linger for too long.
Mr. Golu also advised the APC to set up a conflict resolution mechanism where members with complaints could seek redress, saying "it is the only way to avoid washing dirty linens in public".
He promised that his party, the Peoples Democratic Party, would strive to contribute to robust debates toward a better Nigeria, and stressed the need for politicians to put national interest above party or individual concerns.
He said, "We were elected on party platforms, but once we enter the House, we should see ourselves as Nigerian leaders that must be models for others to copy.
"Nigeria is faced with all manners of challenges and its people want us to seek solutions to the problems. We must be seen to be doing that rather than allowing ourselves to become part of the problems", he said.
Mr. Golu said he would focus on oversight functions of the House to enhance service delivery and make government institutions effective in the efforts to minimise poverty ravaging most parts of the country.
(NAN)
The post NASS Leadership Crisis Will Not Affect Legislative Agenda – Rep appeared first on INFORMATION NIGERIA.