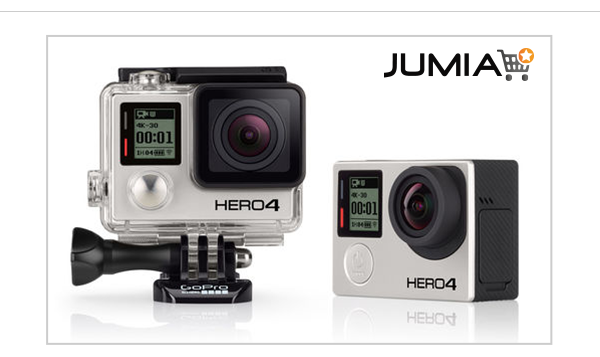 Have you ever had the thought of getting your camera with easy delivery and quality service? Did you ever dream of becoming a professional in photo journalism? Have you snapped that image but it has started getting blurred again? Believe me your worries are over. Where? At Jumia Nigeria! With easy click! Easy purchase! And warranty service, Jumia brings HERO4 GoPro camera to your door.
Once upon a time, there was a man called Josephore Niepce who thought he could record life moment through his sliding wooden box camera. How marvelous his thought came that it met grand failure with time as the image could not stop fading and limbo of processes aligned with it. Then we began to have types of camera; we have Dagurreeotypes, and then Calotypes; before Mr. Alexander Walcott said enough and got a patented camera for the world. By then, all men were living in analog world and you could not help thinking while the smoking locomotive could paint the world in black.
But then, a terrible but brilliant man named Steve Sasson came up with his wizardry, and went on to change the focus of the camera. He turned up the light and came up with a digital camera. For one thing, the world was changing rapidly and it was time to say 'Hell No!' to the reason. You don't have to go into the spooky dark corner before you could record your image! Do you?
Then get HERO4 camera here: Jumia

That paradise-ic desire of image you have been waiting for! Interested in using high performance camera with superb 4k Ultra HD delivery of slow motion pictures? HERO4 could give you the sensational history of touching the knob and image quality of your dream desire. If you have gotten the GoPro experience with cameras; you don't want to miss the HERO4 that gives you a step ahead of any image experience.
With incredible resolution of 4K30 with 2.7K601 combo; your image is neater! Your feeling is better! Your performance is clearer! The HERO4 has video combination of 108p120 and 720p240, what about that? That gives you a sensational immersive footage plus a digital fun-filled world. With these incredible features: unlock manual control of colour, ISO Limit, 131' (40m) with 12mp photos at 30 frames per second, improved audio; your world becomes sharper, richer, and brighter!
Plus cinema quality capture, plus double powerful processor, plus high-functioning video frame, HERO4 outsmarts other GoPro cameras. Oh yes, with wonderful frames, new image setting for the dark, you can take your single time photo or time lapse picture.
Welcome to the Adventure of Life in 4K made possible by GoPro HERO4:
If that is not enough, what is enough?
You want to have a posh WiFi and Bluetooth experience with the HERO4 black camera. They are all available for your internet excitement. Then HERO4 doubles your sharp image world by allowing you to share just through a tap on the GoPro app. With auto low-light; tagging that moment of your motion while editing with GoPro studio, your highlights are already tagged. And all over the social media you are there!
Want to accessorise your GoPro HERO4?
You have got your spare rechargeable battery, LCD Touch BacPac, 3-Way, headstrap, dual battery charger (HERO3+ and HERO3), and suction cup, add your wish list…!
HERO4 clearly supports your dream image; give you a professional touch through Protune enhancement of your video and photo. You are already living in the improved idyllic world.
With your HERO4 at Jumia Nigeria, you are just the HERO you are!
Order your own GoPro HERO4 Camera now at Jumia Nigeria