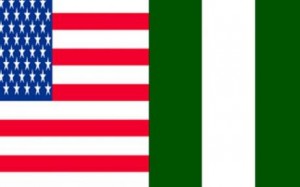 The US Ambassador to Nigeria, Mr James Entwistle said the United States is Nigeria's best friend.
In his remarks to mark the 239th Independence Anniversary of the U.S., which was commemorated at the U.S. Embassy in Abuja, Entwistle noted that Nigeria and the U.S. had known "deep wounds and devastating losses" throughout their histories adding that "time after time the people of both nations have overcome those tragedies."
"I told former President Goodluck Jonathan when I arrived in Nigeria in November 2013, and Secretary of State John Kerry told President Muhammadu Buhari when they met immediately after inauguration.
"I am sure President Barack Obama will tell President Buhari when he receives him in Oval Office at the White House on July 20. The people of Nigeria have no better friend than the United States.
"In my country, our commitment to democracy is right there in our Declaration of Independence.
"Here in Nigeria, you demonstrated to the world your commitment to democracy in historic elections earlier this year.
"In both of our great countries, commitment to democracy is deeply woven into our status as free and independent peoples," he said.
Entwistle noted that the U.S. had worked with the Federal Government on a host of issues like elections, security, Niger Delta, fighting infectious diseases and spurring broad-based, inclusive economic growth, among others.
"For me, this is an exciting time to be in Nigeria. In the past year, we've seen Nigerian doctors and nurses defeat Ebola.
"We've seen the Nigerian military reclaim territory from Boko Haram.
"And most of all, we've seen the Nigerian people go to the polls and defy expectations, made their voices heard as they insisted that their votes count.
"Thanks to them, the light of Nigerian democracy shines brightly across the continent," he said.
The event was attended by the Senate President Bukola Saraki, Speaker House of Representatives Yakubu Dogara and Emir of Kano, Lamido Sanusi, among others.