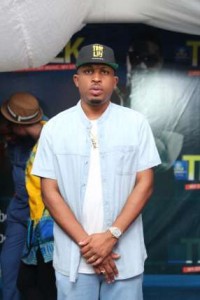 Remember yesterday's report about list of songs banned by NBC? Well, Naeto C has something to say about that.
The songs banned included 'Fans Mi', 'Shakiti Bobo', and many others.
Naeto C song, Tony Montana' featuring D'Banj was also banned by NBC from being broadcast on Nigerian radio and TV.
Naeto C simply responded with a photo mix of the disclaimer shown in the video, stating that the story line and scenes are all a work of fiction.
The second photo, being the list of songs published by NBC, with Naeto C's, 'Tony Montana', on list.