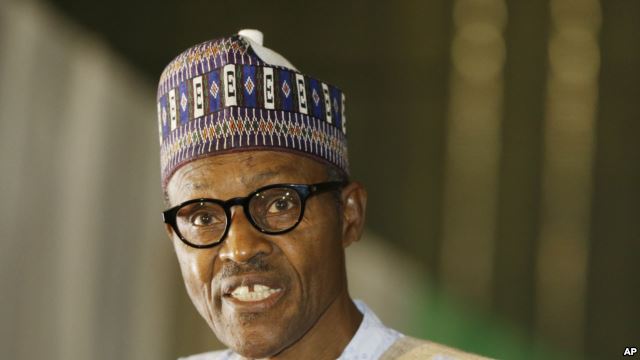 Senators of the People's Democratic Party (PDP) have slammed President Muhammadu Buhari over alleged biases in his administration's war against corruption. The PDP senators alleged that security agencies were coercing election officials to rewrite reports in some states to the favour of the ruling All Progressives Congress (APC).
The PDP caucus at a press conference in the National Assembly building alleged that the Department of State Services was coercing officials of the Independent National Electoral Commission, INEC to be conscripted into plots to undermine the election of PDP officials in Rivers, Akwa Ibom and Abia States.
Former Governor of Akwa Ibom State Godswill Akpabio, in company of 22 PDP senators expressed concern that the administration's anti-graft war seemed targeted at the PDP and states controlled by the party.
He said that the PDP legislators have thus been persuaded to write the General Abdulsalami Abubakar-led National Peace Committee, to inform the body of the alleged unconstitutional roles of the DSS.
"It is on this ground that we condemn in particular what is happening in Akwa Ibom, Rivers and Abia states, where election umpires are daily arrested, their families and associates hounded, and judicial officers involved in election tribunals intimidated and questioned using trumped-up petitions bordering on corruption.
"Yet these officials were part of the 2015 elections that produced President Buhari, an election adjudged to be generally free and fair by the international community.
"No democracy survives without a viable opposition in any part of the world. INEC is supposed to be an independent commission and its officials ought to be shielded from partisanship.
"The arrest of electoral officials in states APC did not win elections in an APC-led Federal Government is a source of worry to this caucus and indeed all lovers of democracy worldwide. There is no provision in our laws that allows the DSS to meddle in a partisan manner in the political electoral process.
"The elections in Akwa Ibom, Rivers and Abia states (all PDP states) were held and adjudged successful and credible by Prof. Attahiru Jega, the erstwhile chairman of INEC.
"At this period of renewed onslaught by terrorists in the North Eastern part of our dear nation, we expect security agencies to deploy their assets and manpower towards recovering lost territories and ensuring the safety and security of lives and property of Nigerians.
"We condemn these arrests, describe them as illegal, a total misplacement of priority, a waste of tax-payers' money in an economically challenging time, and a serious threat to democracy.
"Should the DSS succeed in coercing electoral officials of INEC to recant their signatures to documents and therefrom obtain undeserved victories at tribunals for APC, what image would have been created for Nigeria's democracy?"
The caucus, therefore called on President Buhari to immediately intervene and refrain the DSS from partisanship.
Senator Akpabio also reacted to comments attributed to the President that he would show more attention to areas that gave him votes in the election, advising to refrain from such.