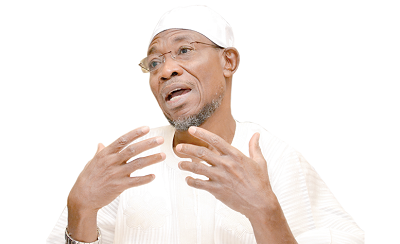 The Council of Academic Staff Union of Osun State-owned Tertiary Institutions has called on stakeholders in the state to advise Governor Rauf Aregbesola to stop cutting down their salaries under any guise.
The union said this in a statement signed by its Chairman, Lasisi Jimoh; Secretary, Olusegun Lana and the Public Relations Officer, Dotun Omisore, in Osogbo, the state capital on Tuesday.
The body comprises of lecturers from the two state polytechnics in Ire and Esa Oke as well as the two colleges of education in Ila and Ilesa.
According to the union's chairman, rather than seek an end to the ongoing industrial crisis in the institutions, the state government made things worse by cutting the lecturers' salaries.
He claimed that the lecturers' salaries were cut in January 2015 and the same thing happened in February.
The council also accused the state government of unilaterally scrapping the financial gain that should have come with the 2014 promotions.
The statement partly read, "In our efforts to seek justice amicably, we consulted the state government through the Chief of Staff to the Governor and the Head of Service in separate meetings.
"At those meetings, the state government admitted our position that the financial effect of 2014 promotions and 'migration of lower cadre' are irreversible. We had mutual understanding that our salaries would be paid correctly once the then expected bailout is received from the Federal Government.
"Now that the much-expected bailout has been received, the state government has concluded plans to sustain the pay cut contrary to the principles of fair play, equity and collective agreement between our union and the government.
"Do we deserve to be short paid when all our outstanding salaries, allowances and leave bonuses were duly factored into the amount requested as bailout?"