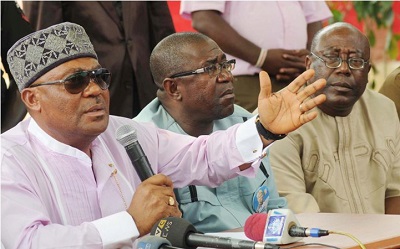 Deputy Chairman of All Progressives Congress (APC) in Rivers State, Prince Peter Odike, has raised the alarm over an alleged plot to assassinate him.
Odike specifically accused the leadership of the Peoples Democratic Party in the state and in Ogba/Egbema/Ndoni Local Government Area of being behind the plot to eliminate him.
He made this allegation in a statement he signed and issued in Port Harcourt, the state capital on Thursday.
According to the APC chieftain, he had been receiving threatening telephone calls from anonymous callers, adding that he had made the telephones numbers of such callers available to security agencies.
Odike explained that the plot to kill him was comprehensive and stated that the directive by the sponsors was for the act to be carried out anytime and anywhere.
He maintained that the threat to his life was by the leadership of the state PDP who saw his position as the deputy chairman of the state APC and his political antecedent as a stumbling block to their political aspirations.
He said, "Information in my possession indicate that there is a well laid-out plot to assassinate me. The information further confirm that this plot is being made by the leadership of the Peoples Democratic Party in Rivers State using hatchet men and collaborator in Ogba/Egbema/Ndoni Local Government in general and Ward 2 in Omoku in particular.
"I have been further informed that the plot is so comprehensive that it could be carried out irrespective of geographical location and space and that the sponsors of this plot are so desperate to ensure that I be immediately eliminated.
"May I also inform you that in the recent past and up till the present, I have been receiving threatening calls from anonymous callers and that I have made the telephone numbers of those callers available to the relevant security agencies".