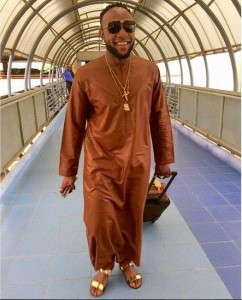 In a recent interview with City People, KCee has again stated how he was a prolific striker for Julius Berger and PUMA.
"When I was playing football I was very good at it. You know some times in life; God knows how to bless people. There is this blessing that God has given to me that I found that from my growing up days, anything I want to do. His always there to support me, and make me stand out and make me the best" said KCee.
 "So when I was playing football, I was a striker. There's no game I play I don't score a goal; it is difficult for me not to score a goal. Even if they are going to win my team, I must register a goal, so I was like that. I found myself in the passion and I have played for Julius Berger, played for PUMA, and I was not paid, at some point I was looking for a management outfit or a manager that can manage me, and take me abroad to play for some teams and all that. But now in between doing that I met my partner Presh, we sang together. I met him in the church choir and we formed a group KC Presh. Just after we formed the group we won the STAR QUEST, and money started coming in" narrated KCee.
KCee is now a solo act and scored a huge hit with 'Limpopo' in 2013.
Last month KCee snagged himself an endorsement deal with a Nigerian airline called Air Peace.
The 'Limpopo' singer announced the new deal on his Instagram account on September 15. "Whoever who said hardwork doesn't pay hasn't tried hard enough! Air Peace just added another feather to my cap by making me their brand ambassador… shout out to all the other major brands I represent in Nigeria. #FirstNigerianArtistToBeEndorsedByAnAirline #AirPeace #BrandAmbassador #Alkayida #LimpopoKing" wrote KCee on Instagram.