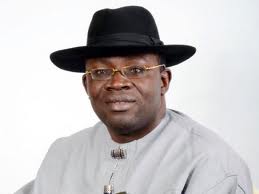 Bayelsa State Governor Seriake Dickson, who is also the candidate of the Peoples Democratic Party (PDP) for the December 5 governorship election in the state has said federal might would not win election for his opponent and candidate of the All Progressives Congress (APC), Chief Timpre Sylva.
According to Dickson, putting the people at the centre of development and accountability that is second to none will make the people of Bayelsa vote for him again.
or example, every month we announce what we receive in terms of revenue and how we spend it to empower the people.
"I believe this will be a standard moving forward as far as governorship and other elections in this state are concerned," he told Vanguard in an interview.
Speaking further, Dickson said: "I heard that my good friend (APC governorship candidate Timpre Sylva) has intensified his campaign.
"That is how it should be, not threatening our people with 'federal might',hoping that INEC will write results for him, that SSS operatives are his errand boys and the JTF will handcuff people for him. He is flying around in helicopter but I am going around as a simple governor in boats and trekking with the people because, to me, the people must be liberated from these greedy persons that do not care about the development of the state.
"I am taking our message of peace, security and development to the communities and telling the people their future is in their hands, not in Abuja or Lagos. I am very happy about the warm reception and the endorsements I have received. I am just coming from Agudama Ekpetiema and the women came out to tie wrapper on me, the men gave me presents. So many of these people (our opponents) are disconnected from voters. I am busy with the persons who will vote and as we move towards the election, Bayelsans will know that the 'federal might' and security they are using to intimidate people will not work.
"We are sensitizing the people that no one wearing uniform will intimidate them. They will vote with their PVCs and protect their votes. There is no magic that can be performed for the APC to win," Dickson asserted.
"Bayelsans must not hobnob with discredited people. This man (Sylva) could not do the intervention I did that enables him to drive to Nembe, he could not dualize the Azikoro Road which I did. Under him for five years, the road to Amassoma was impassable, he could not dream of electrifying communities.
"Unfortunately,because of greed, even people that were on exile during his government are supporting him. Why did they not join APC from the beginning? I do not know how many of them will be in NDDC. I do not know how many of them he will make Directors and Board members as he has promised . They do not mind handing over the future of their own children," Dickson said.
He urged the people of the state to stay away from any violent act in the course of the election.