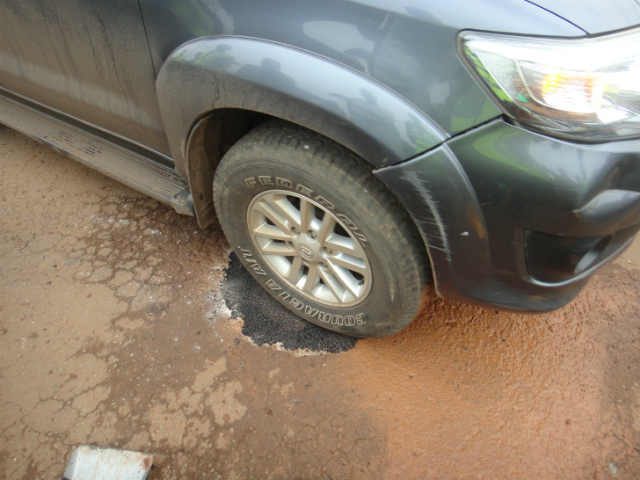 British-based Quikfix Holdings Limited has announced the incorporation of Quikfix Road Nigeria Limited in readiness to secure contracts for the repair of roads throughout the country and end the misery potholes bring to drivers.
If successful, this will lead to the setting up of at least one factory to manufacture Quikfix Instant Road Repair, the creation and training of hundreds of jobs together with the procurement of thousands of tonnes of locally-mined aggregates.
Quikfix IRR is a permanent, "once-only" treatment which takes only minutes to apply and can be driven over immediately with no curing time or need for roads to be closed whilst repairs are carried out.
The innovative cold-lay product requires no heating in either manufacture or application. It can be applied ALL year in ALL weathers, including monsoon rains, and each repair comes with an industry-unique 5-year guarantee.
It is currently proven in use in over 38 countries worldwide and is now being introduced to Africa where Nigeria could be amongst the first to benefit from this technologically-advanced solution.
"Potholes are a nightmare for drivers, causing congestion, delays, damage, accidents and death", explained QHL Development Director, Amin Khan, adding, "Quikfix IRR provides an instant, permanent, cost-effective and guaranteed remedy which we believe will be welcomed in Nigeria. We are currently negotiating with several State authorities to carry out turnkey "supply and apply" services. We will identify factory sites and start appointing production, repair and office crew members as soon as contracts are secured".
Dormene Donald Nunieh, Joint Managing Director of Quikfix Road Nigeria Limited, added, "Quikfix is a genuine solution to the pothole problem which will make a big difference to people, communities, business, tourism and industry. We employ 100% local labour and buy supplies locally so Quikfix helps the economy in every way".
In addition to its Instant Road Repair, Quikfix offers a range of complementary products and services which it also plans to introduce to Nigeria, including the manufacture and installation of road signs, marking and lining roads, and the supply of road safety equipment. Signage and on-road advertising can be provided free and earn road authorities revenues from advertisers and sponsors—all work being executed by Quikfix at no cost to the government.
The company's TerraFirma product is a revolutionary liquid spray application which converts earth roads to "hard-as-rock" paved roads without asphalt or concrete. It was invented by the USA military for building airstrips in remote areas where asphalt and concrete were unavailable. Quikfix anticipates huge demand for this product in Africa where unpaved roads are slow, rugged and dusty in summer but become muddy and impassable in winter. TerraFirma is up to 60% cheaper than conventional materials and has a road ready for use in just 72 hours!