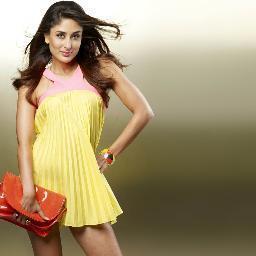 "THE FIRST THING I LEARNT IS BEING SIMPLE,
SHE HAS NOT LOST HERSELF AFTER BEING HERE
FOR A LONG TIME. SHE HAS ALWAYS BEEN THE
SAME PERSON. SHE IS THE SAME PERSON ON
SETS AS SHE IS OFF IT. SHE DOESN'T TAKE HER
STARDOM SERIOUSLY. I THINK THAT IS HER
BIGGEST ASSET," SAID ARJUN KAPOOR OF HIS
KI AND KA CO-STAR.
.
Actor Arjun Kapoor feels his Ki And Ka co-star
Kareena Kapoor Khan is a simple person, who
doesn't take her stardom seriously, and said that is
her biggest asset.
.
Arjun found it quite easy to work with his childhood
crush Kareena in the R Balki-directed film. "The first
thing I learnt is being simple, she has not lost herself
after being here for a long time. She has always been
the same person. She is the same person on sets as
she is off it. She doesn't take her stardom seriously. I
think that is her biggest asset," Arjun told PTI. (Also
Read: Why Arjun Kapoor 'Needed' Ki And Ka at This
Point in His Career)
.
The 30-year-old actor, who is all praise for the Jab
We Met actress, further said that she listens to her
directors very patiently.
.
"She is a gifted actor, she listens to her directors. As
an actor, she just patiently listens to what the
director wants. A lot of people have their opinion or
point of view, but Kareena doesn't do that, she still
listens to her directors," Arjun said.
.
"That humility towards your craft is something I love.
Films are as good as directors, actors are selfish
people, directors see the bigger picture," he said.
(Also Read: 'Arjuntina'-Bound Khatron Ke Khiladi
Really Doesn't Like Ceiling Fans)
.
Arjun also said he did not feel intimidated by Kareena. "I have been a fan of hers as she is a fantastic actor. I have grown up in the industry. I know Kareena for years even before she became an actress. She has done four films with my father. She is not one of those actors who intimidates another person, we have fun on the sets," he said.
.
"We have now known each other for quite some time, its normal for us. We did not have to break the ice or create chemistry. We have a fantastic director, great actors and a great story. We finished the film in less than 50 days," he added.
.
Of reports that he would be working with his uncle
Anil Kapoor in the remake version of Chacha Batija,
Arjun said, "It is not true."
.
The actor is also quite excited about his stint on
small screen as a host with adventure reality show
Khatron Ke Khiladi.