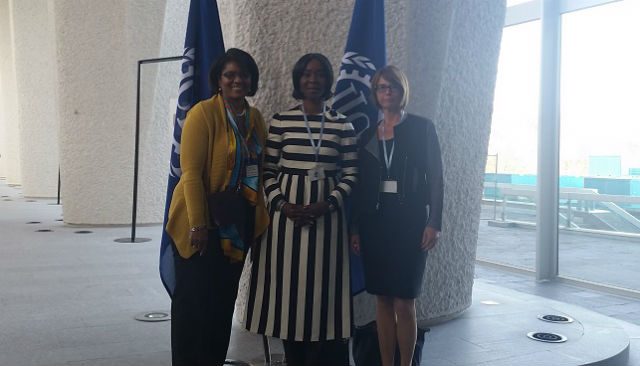 As the Founder-President of the Wellbeing Foundation Africa (WBFA) Her Excellency, Mrs. Toyin Saraki attends the 2015 United Nations Every Woman, Every Child (EWEC) Stakeholder Consultation for Accountability for Women's, Children's and Adolescents' Health in Geneva, over the next 2 days, WBFA seeks to use this opportunity to further embolden our call-out for stronger, country-led accountability systems, in order to drive improvements in reproductive, maternal, newborn, child and adolescent health (RMNCAH).
In her speech, Her Excellency Mrs. Toyin Saraki highlighted lessons from Nigeria's implementation of CoIA's recommendations, including Importance of country leadership in translating the accountability framework into action at the national level. She stated, "The Global Goals finalized in September 2015 at the UN General Assembly are rooted in our collective accountability to humanity. Action taken on Reproductive, Maternal, Newborn, Child and Adolescent health at this moment in history is part of our accountability to the generations that will follow us." Her Excellency Mrs Toyin Saraki highlighted the importance of translating the Global Goals into national goals to foster effective implementation and full accountability at a country level.
Mrs. Saraki went on to share innovative and strategic solutions, implemented by WBFA through partnerships, including: a strategic breakfast meeting hosted by the Senate President of Nigeria, His Excellency, Senator (Dr) Abubakar Bukola Saraki, on the 13th of November 2015, with the Wellbeing Foundation Africa and World Bank Group in attendance; #MaternalMonday Advocacy Campaign; WBFA's client-held Personal Health Records, which have dramatically improved demand for childhood vaccinations in north-central Nigeria; the Alaafia Universal Health Coverage Fund, which gives 5000 Nigeria residents free access to quality healthcare and WBFA's Antenatal Classes. She concluded by emphasizing the importance of the role of midwives in the Implementation of the accountability frame work, due to their unique insight and position in communities across Nigeria.
Mrs. Toyin serves as Global Goodwill Ambassador to the International Confederation of Midwives promoting its Midwifery Services Framework to its national associations in 136 countries, and is Save the Children's Nigeria Newborn Champion.
Signed: Communications
The Wellbeing Foundation Africa
Email: communications@wellbeingfoundationnig.org
Web:  www.wbfafrica.org