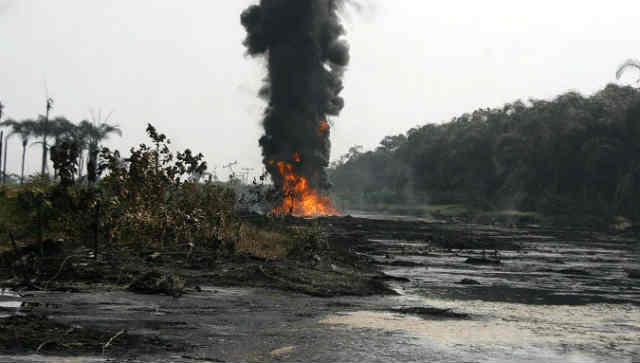 The Federal Government of Nigeria has determined to involve some security agencies such as Department of State Security (DSS) and Economic and Financial Crime Commission (EFCC) in prosecuting pipeline vandals. The Managing Director of Petroleum Products and Marketing Company (PPMC), Mrs Esther Nnamdi-Ogbue, disclosed this on Sunday during a visit to Mosinmi Depot and Ajebo pipeline in Obafemi Owode local government area of Ogun State.
She listed the security agencies to be involved as the Nigeria Police, EFCC, and DSS.
Ogbue said that the involvement of these agencies would facilitate the prosecution of the vandals at the courts of competent jurisdiction.
"We are looking at all ramifications on how to bring these criminals to book; they have to be treated as criminals and pipeline products thieves.
"The pipelines are the most efficient way of moving products and then for the first time in a very long time we are pushing products all the way to Ibadan.
"We intend to move to Ilorin, reduce bridging from Lagos area so that people can go and pick up their products in Ibadan and Ilorin," Ogbue said.
She expressed optimism that partnership with EFCC, DSS, Police and host communities would yield positive results and the culprits would soon face the full wrath of the law.
Ogbue said that federal government would start deploying trackers on trucks carrying fuel from its depots to filling stations across the country to check diversion of the product.
The PPMC boss explained that with the trackers government would be able to monitor the movement of trucks vis- a-vis their destinations. She lamented that fuel diversion was a serious problem with undesirable consequences on the economy.
Federal government operates 22 depots nationwide, including Atlas Cove, which is located in Lagos. [PPMC/NAN]