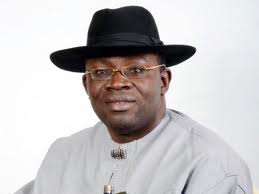 Governor Seriake Dickson of Bayelsa was sworn-in for his second term in office, on Sunday, February, 14, 2016, in Yenagoa, the state capital.
Dickson, who dedicated his victory in the polls to the people, said "We must stand for good governance and light must always triumph over darkness in Bayelsa."
The Governor also promised to complete all outstanding projects, adding that he will never play politics with the security of the state.
He also said "In the past four years, the state has witnessed transformation and we are ready to do more.
"We will consolidate and expand security in the next four years; this victory is ours and I want us to build a strong synergy to accelerate development of Bayelsa."
The Bayelsa Governor also said "I must say that my government is ready to work with the federal government in ensuring that the issue of kidnap and oil pipeline vandalism is properly checkmated.
"My advice to our people is to steer clear of encouraging or covering-up criminal acts in the state and Niger-Delta region."
Governor Seriake Dickson recently announced that the state can no longer borrow money from banks to pay staff salaries.
He also warned pipeline vandals and kidnappers in Bayelsa state to desist from their illegal act.