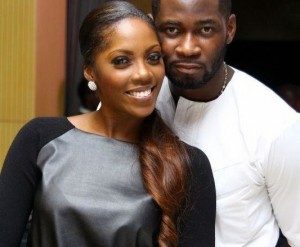 Tunji (Tee Billz) Balogun, hubby/manager of Nigerian pop queen Tiwa Savage has written a small but lovely birthday message to his wife who turns 36 today.
On his Instagram page Tee Billz wrote "Our love story is my favorite out of all…… @tiwasavage #KATAPOT #HappyBirthdayTiTi."
On April 26, 2014 Tee Billz got married to Tiwa Savage. They had a son named Jamil on July 22, 2015.
Last month Tee Billz wrote against domestic violence among couples. "My Brothers! I know women can run their mouth and sometimes push us to the wall but no matter the circumstance, let's learn to away. They will forever be our mothers, daughters, sisters and wives. The sincere truth is, we cannot do without them so we must them enough not to be a COWARD. #SayNoToAbuse #TGDI #OnlyCowardsHitWomen #323ME" wrote Tee Billz.
A few days before her birthday Tee Billz gushed over his wife's picture on Instagram.