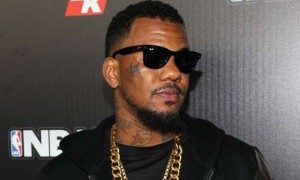 The beef between two popular rappers, The Game and Young Thug is moving from heated to strangely sweet.
Less than a week ago, The Game in a comment on Instagram said that he'd "beat the Victoria secret out Young Thug". And now, the two rappers are seemingly exchanging pleasantries with regard to the cuteness of their respective daughters.
Out of nowhere, Young Thug posted a picture of The Game's daughter to Instagram. "Such a cutie," he wrote. "Wish she was my kid!!"
He quickly deleted the post, but not before The Game heard about it and clapped back a couple hours later by posting a picture of Thug's daughter to Instagram. "Aye, you ain't had to delete the post thug," he wrote. "I appreciate you for the compliment on @LittleMissCaliDream… In fact, your daughter cute too bruh – Sincerely, The Game." Within hours, his post had been deleted as well.
The bad blood between the two started in May last year when The Game said he'd take on any Wayne detractors himself. Since then both Game and Thugger have barked at each other through various channels and settings until now.