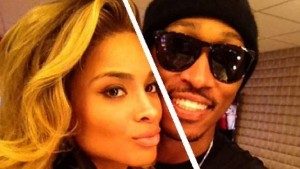 Following the announcement of Ciara engagement to Russell Wilson, fans almost bite off Future on social media after he spotted hanging out in a strip club celebrating his single lifestyle.
According to TMZ, the rapper spent nothing less than $21,000 during his hours-long stay at the club.
He later shared on Instagram a photo of himself holding up dozens of hundred dollar bills over his face captioned "See No EVOL," and that was when his fans started slamming him.
One even wrote "Stop showing off your child support money," while another slyly quoted Future's lyrics, "'I know imma get my b—h back ooohhhh.. Oh wait oops."
Meanwhile, Ciara got a romantic marriage proposal from her boyfriend Russell in a priv ate Hollywood beach.