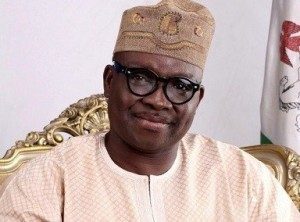 Governor Ayodele Fayose has been accused of alleged complicity in the fuel supply crisis in Ekiti state.
The allegation was made by the All Progressives Congress in the State via a statement that was made available to many media houses on Sunday, April 24, 2016.
Signed by the Publicity Secretary, Taiwo Olatunbosun, the party said it was in possession of "incontrovertible evidence" that shows that the governor was allegedly making fuel scarce in a bid to sabotage the President Muhammadu Buhari's administration.
The ruling party arm in Ekiti further alleged that the daily allocations of fuel to the state were allegedly being diverted to other states with the alleged connivance of some National Union of Petroleum and Natural Gas officials.
Olatunbosun said available records revealed that 10 trailers of fuel for Ekiti State on Fayose's request were diverted mostly to stations outside the state.
In his words, "The Secretary to the State Government, Dr. Mrs Dupe Alade, had earlier written for same allocation but her letter to NNPC was stepped down when Fayose used his office to request for the allocation of fuel to 10 filling stations, many of which do not exist in Ekiti State.
"The governor's letter was addressed to the Area Manager at Mosimi and minuted to Ore and was processed by the Ore office of NNPC.
"The trailers were loaded on Wednesday and Thursday the 20th and 21st of April but the real fuel companies and vendors were prevented from loading until the 10 trailers demanded by the governor left the depot but were diverted to other stations outside Ekiti State," he said.
Olatubosun further went ahead to list the company names in the letter of the governor to NNPC as Amsek Filling Station opposite Omolayo along Ikere road, Ado-Ekiti, Royal Oil, which the letter falsely claimed to exist in Omuo-Ekiti, Rova Oil, Bisi Jay, Ademur and Eyeowa fuel.
He alleged further that Moson Global located in Ifon, Ondo State, also received Ekiti allocation at NNPC official price.
Swiftly reacting to the allegation, Gov. Fayose's Special Assistant on New Media and Public Communication, Lere Olayinka, said the allegation was unfounded and untrue.
"Is it the governor that is also responsible for fuel scarcity in other states? They are only trying to seek relevance. They better face the task of bringing good governance to the people," he added.
This is another angle to the drama in the state that has consistently tackled the Buhari's administration.