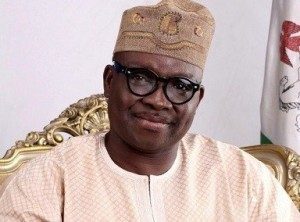 Ekiti State Governor, Ayo Fayose has said that the controversy surrounding the 2016 budget shows that President Muhammadu Buhari is too old to rule Nigeria.
Fayose made the comment via a statement released on Tuesday, April 12, 2016, by his media aide, Lere Olayinka.
It reads:
"Nigerians should expect more blunders like this until they send Buhari back to Daura in 2019. I warned Nigerians of the consequences of electing an octogenarian as president and with the international embarrassment that this budget crisis has become, I have been vindicated.
"It is obvious that there is total disconnection between the President and his cabinet members as many of the ministers don't even have access to him probably because the President spend most of his time resting as a result of his old age.
"The reality is that the President is challenged by age, exposure and ability. He did not read the budget proposal that he presented to the National Assembly and this should be a lesson for those who clamoured for a Buhari's presidency that no man can give what he does not have.
"The question is; can a minister present supplementary budget to the National Assembly and can the National Assembly act on budget proposal submitted by a minister?
"It is shameful that after blaming former President Goodluck Jonathan and the Peoples Democratic Party (PDP) for close to one year, the presidency is now blaming the National Assembly for its inability to prepare a common budget. Nigerians must have now come to terms that I warned them that Buhari is too old to govern a country like Nigeria."
The Presidency and the National Assembly are in disagreement over the budget due to the controversial removal of provisions for the Lagos-Calabar rail project.