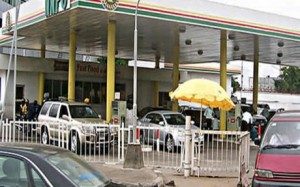 The President of the Academic Staff Union of Universities (ASUU), Dr Nasir Fagge has said that the ongoing fuel scarcity was caused by greedy Nigerians.
Fagge made the comment after paying a visit to the Vice-Chancellor of the Lagos State University (LASU) Professor Olanrewaju Fagbohun.
"All the problems arising now should have been envisaged and addressed before removing the subsidy. Government is supposed to know that some people will try to frustrate its effort and should have pre-empt that," the ASUU president told the News Agency of Nigeria (NAN).
"How will a government official utter conflicting statements that the fuel scarcity will be resolved on April 7, but later said it will be in the second week in April. That is unfair.
"Government officials should be held responsible for their promises and anyone who makes promise and failed to fulfill it should be eased out of the system," he added.
Fagge further urged President Muhammadu Buhari, who also serves as the Minister of Petroleum Resources, to find an urgent solution to the fuel scarcity.