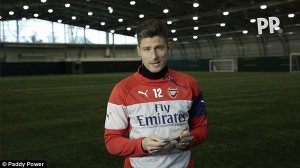 "It is a positive feeling," he said. "I am not masochist enough to love to be booed.
"I am in a public job and I accept criticism. I think I have proved in 20 years that I accept being criticised.
"My target is to keep everyone happy but unfortunately I don't manage to do it always.
"We did not start the season saying we want to finish above Tottenham. But we wanted to win the league and I agree with you there is a frustration because we didn't win the league.
"Today, we could only play with the target we had. And the only one we had before the game was to finish second.
"We achieved it. For a while our supporters have not been going home happy from here –- at least today they had some satisfaction."
Olivier Giroud's hat-trick and an own-goal from Villa goalkeeper Mark Bunn completed the win as Arsenal said farewell to Tomas Rosicky, Mikel Arteta and Mathieu Flamini, who will leave in the close-season.
Arsenal midfielder Jack Wilshere made his first start since the final day of last season and came through a 70-minute performance in front of the watching England coach Roy Hodgson.
Theo Walcott was ruled out with a minor hamstring problem, but Wenger insisted the winger was fit enough to be considered for England's Euro 2016 squad that will be announced on Monday.
"Jack is fit," Wenger said. "Theo has a little hamstring problem. He is sharp but not available.
"If he is selected tomorrow he is available for Euros."
Villa's relegation into the Championship had been confirmed long before this game, but caretaker manager Eric Black believes there is a chance the club will come straight back up.
"No-one wants to go through this again," he said. "The rebuilding has to start quickly.
"It's definitely realistic for Villa to aim to come straight back to the Premier League.
"There is no doubt that Villa is a massive club with the potential to come back, but there is stuff to be sorted out with the owners and the new manager.
"Some of these players will be here next season and it's important for them to get the fans back on board, which they have started to do in the last three games."