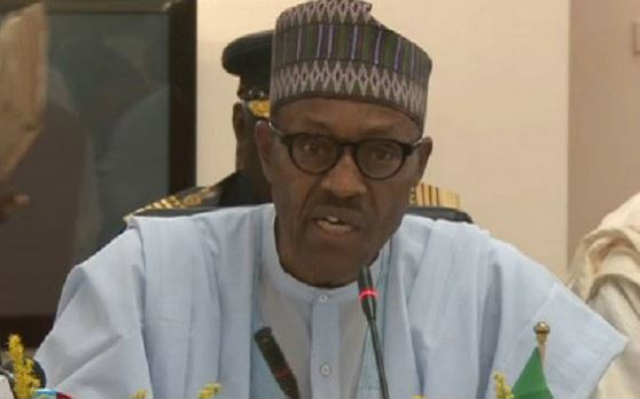 President Muhammadu Buhari signed Nigeria's biggest ever budget ending months of haggling with lawmakers over spending plans to help stimulate an economy reeling from falling crude prices.
With a 6.1 trillion naira ($30.6b) budget, up 20 percent from the 2015 budget, Nigeria is looking to spend its way out of an economic slowdown and diversify Africa's largest economy and one of its biggest oil producers. The 2016 budget fiscal deficit will be 2.2 trillion naira, or 2.14 percent of gross domestic product, James Akpandem, a spokesman to the Minister of Budget and Planning, said by phone.
"We made a deliberate choice to pursue an expansionary fiscal policy despite the huge decline in government revenues from crude oil exports," Buhari said in a speech received by email after he signed the budget into law on Friday. The budget shortfall will be financed by debt which will "be applied towards growth-enhancing capital expenditures."
More than 200 billion naira have been allocated to road construction, compared with 18 billion last year, and Nigeria will immediately spend 350 billion on capital projects, Buhari said.
The budget, passed almost halfway into the year, "will help but it is not the silver bullet that will solve our problems," Bismarck Rewane, Chief Executive Officer of Lagos-based consultancy Financial Derivatives Co., said by phone. "In addition to the spending, we need clarity in foreign-exchange policy, fiscal policy and incentives for investors which would attract the needed investments."
Central bank Governor Godwin Emefiele has pegged the naira's official rate at 197-199 against the dollar since March 2015. Buhari has backed that policy since he became president in May last year, confounding analysts who thought he would have caved in by now and let the naira fall, as other oil exporters from Russia to Kazakhstan and Colombia have done with their currencies. Foreign-exchange trading restrictions and import curbs have led to shortages of goods from gasoline to milk and sent the naira plunging to 319 per dollar on the black market.
"The budget is meant to stimulate the economy," Babajide Solanke, an analyst at Lagos-based FSDH Merchant Bank, said by phone before the document was signed. "The delay in passing it has been bad for the economy, and it might be difficult to achieve targets such as growing non-oil revenue."
Buhari, a 73-year-old former military ruler of Nigeria, said Africa's most populous country is experiencing "probably the toughest economic times" in its history. He promised his administration was "working night and day" to diversify the economy and move away from oil-dependency.
Nigeria relied on crude for about 70 percent of government revenue and 90 percent of export earnings in 2014 and has been hammered by oil prices plunging by more than half in the last two years.
The International Monetary Fund (IMF) said Nigeria's economic growth could slump further to 2.3 percent this year after dropping to 2.8 percent in 2015, the lowest rate since 1999.
The passing of the budget means Nigeria can start borrowing to bridge this year's fiscal gap. The government is already talking to the World Bank and African Development Bank for loans, and may raise as much as $1 billion from international capital markets, according to Finance Minister Kemi Adeosun.
(c) 2016, Bloomberg · David Malingha Doya, Emele Onu via washingtonpost.com