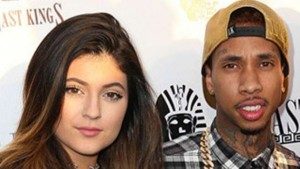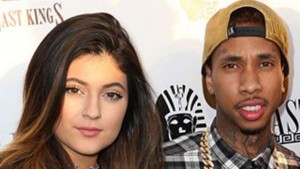 Tyga, in a fit of anger and maybe a little jealousy, may have leaked a sex tape featuring himself and reality star ex -girlfriend, Kylie Jenner via his website.
UK Daily Mail reports that the rapper leaked a sex tape with Kylie on his website earlier today, May 19, 2016, but had taken it down 30 minutes later.
The reports also reveal that the 18-year-old model is 'freaked out' that the intimate video will get into the wrong hands after it had reportedly appeared on the 26-year-old rapper's official website, Tygasworld.com.
A source disclosed saying:
"Tyga will not sign off on releasing it to the masses, but Kylie is scared that a sex tape could get in the wrong person's hands with one of his buddies and they could put it online to embarrass her."
A Twitter user seems to have downloaded the video clip before it was pulled down, as he boasts via a tweet on his new find:
"Guess who got the Kylie Jenner sex tape before it was deleted from Tyga's website."
UK Daily Mail also reports that the "Rack City" hit maker is reportedly behind the leak and could be facing prosecution as his actions could be considered criminal under California's new revenge porn law.
It was also revealed that Tyga may bear some ill will against the Kardashians as the momager, Kris Jenner is reported to have pushed for the split since the family opened their arms to his ex fiancee, Blac Chyna, who is now carrying the Kardashian heir and engaged to Rob Kardashian.