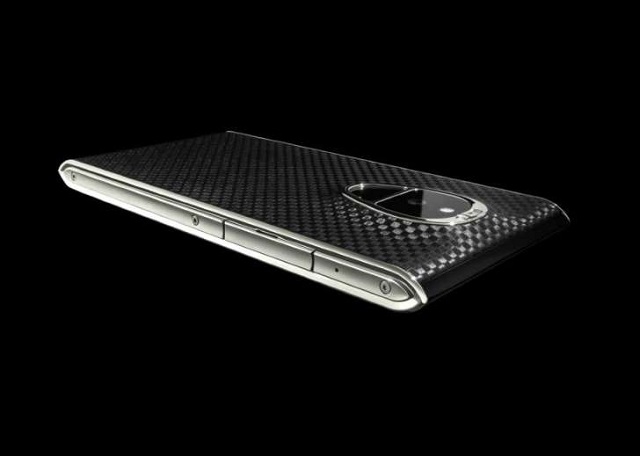 It's a smartphone aimed at "the international business person" that promises to deliver "tomorrow's technology today," and it will set customers back a cool $17,000. But the Solarin smartphone from Israeli startup Sirin Labs is using a processor that was introduced over two years ago, and one that is known to overheat to the point of shutting down.
The Solarin smartphone was unveiled at an event in central London on Tuesday, with Sirin Labs saying it is the world's first "truly smart phone." Its biggest selling points are its security features, which include military-grade encryption and state-of-the-art mobile threat protection supplied by enterprise mobile security experts Zimperium.
Sirin Labs claims these measures will "thwart the broadest array of advanced device, network and application mobile cyberattacks, without impairing usability or functionality of a top-of-the-range smartphone." Users will be able to feel like James Bond by activating a "shielded mode" using a physical security switch on the rear cover, which will allow them to make fully encrypted calls.
The new phone will go on sale in London priced £9,500 plus VAT which will bring the total to just under $17,000. "We do not accept that price drives what's available in technology," Moshe Hogeg, president and co-founder of Sirin Labs, said in a statement. With Solarin, we break the rules."
While most smartphone companies are competing to reduce the price of their devices, there are other manufacturers who sell smartphones around this price point, including Vertu, which sells its Signature Touch devices for around $15,000. Sirin Labs uses a combination of titanium, carbon, leather and yellow gold in the construction of its phone.
Sirin Labs, which is backed by $72 million in venture capital, claims the phone features cutting-edge technology, which delivers "tomorrow's technology, today, to the toughest audience with the most exacting requirements."
However, the phone is being powered by Qualcomm's Snapdragon 810 chip, which was first announced more then two years ago, in April 2014. The chipset gained notoriety when it was used by Sony in its Xperia Z3+ smartphone launched last year when it overheated and caused the smartphone to crash regularly when using certain applications.
Qualcomm says it has addressed the issue of overheating in the latest versions of the 810 chipset, but the company has since launched the well-received Snapdragon 820 chipset, which is being used in premium smartphones like the Samsung Galaxy S7, HTC 10 and LG G5.
Sirin Labs was founded by Hogg, who previously created the social app Yo; former McKinsey consultant Tal Cohen; and Kazakh businessman and petrochemical mogul Kenges Rakishev, who came up with the idea of a completely secure smartphone after he had his phone hacked.
Since the demise of BlackBerry, which was a leader in enterprise communications, a number of companies have been seeking to fill this gap in the market, with Silent Circle's Blackphone — which costs $799 — currently among the leading option available on the market.
[International Business Times]