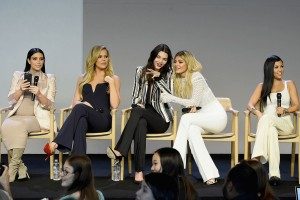 After Stephanie Seymour's comment against Gigi Hadid and Kendall Jenner being called supermodels went viral, she has seen the need to rephrase the context to her choice of word.
According to E! online, Stephanie re-addressed the sensitive topic which has made a huge headline for the past few days on her instagram page.
"I don't usually address rumors, but since feelings have been hurt I would like to set the story straight, at an event last week I was jokingly asked if the 'era of supermodels' was over, what we should call the new great 'it 'girls? There were no names mentioned and NO ill intent involved." Stephanie wrote.
"A supermodel is a supermodel. I respect and admire all these women in my industry, in particular Gigi Hadid and Kendall Jenner. Having been in the business over 20 years I know how hard these women work. Bravo to both Gigi and Kendall for their success!!" Stephanie added.
It all began when the American model Seymour Stephanie called Kendall Jenner and Gigi Hadid opportunist and not real models.
Stephanie during a recent interview with Vanity Fair called the young models "b****es of the moment" and went on to say neither Gigi nor Kendall deserves to be called supermodels.
"They are completely different than we were, supermodels are sort of the thing of the past. They deserve their own title. [Kendall and Gigi] are beautiful girls, and I support all of them, " Seymour said.
Seymour started modeling at the age of 16, she has appeared in numerous issues of the Sports Illustrated Swimsuit Issue and on the cover of Vogue. Posed for Victoria's Secret Playboy, Gap, Salvatore Ferragamo amongst others.