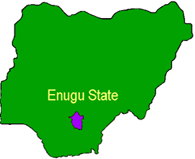 Mr Luke Mmamel, Enugu State Commissioner for Transport, says his Ministry will put in place measures to keep commercial motorcyclists off dual carriage ways in the state capital.
Mmamel told newsmen at the weekend in Enugu that measures planned included installation of road traffic signs in prohibited areas.
"We will install signs that will indicate where to park because vehicles are not expected to park on pavements or double-park on major streets. There is a distinction between parking, waiting and stopping. When they are fully installed, motorists and commercial motorcyclists will not feign ignorance of prohibited areas," he said. He said inadequate staff to effect traffic decongestion in prohibited areas was stalling government's objectives.
The Commissioner said adhoc staff would be recruited before the end of this quarter to assist in enforcement of the initiative.
He said with the movement of University of Nigeria Teaching Hospital, UNTH, Enugu to Ituku-Ozalla, some Coal City Shuttle buses were directed to the new route leading to the hospital.
"The directive is aimed at alleviating the hardship encountered by staff and patients as they move to and from the hospital," he said.
The Enugu State government had in May 2009 banned commercial motorcyclists from plying dual carriage ways within the metropolis. This, the government claimed was to reduce their involvement in crime and accidents.