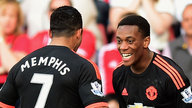 Lyon could eventually earn a maximum of almost €28 million from the sale of Anthony Martial to Manchester United, according to the French club's president Jean-Michel Aulas.
Martial, 20, moved from Monaco to United last year in a transfer reported to be worth an initial £36m.
The deal also had several performance-related bonus conditions, however, and Lyon also included a 20 percent sell-on clause when they let Martial move to Monaco for €5m in June 2013.
Aulas said last year that the France attacker's switch to United could be worth up to €14m to his club but he has now revised that figure significantly upwards.
Lyon were entitled to a FIFA solidarity payment as a club who developed the player during his teenage years and Aulas said they could potentially earn a huge sum overall if Martial's career at United goes well.
"I think it's close to €28m," he said.
That will come as some consolation to Lyon, who are in a much stronger position nowadays compared to when they felt they had to let Martial leave.
"It was heartbreaking but it was an obligation," Aulas said of giving up Martial initially.
"If we didn't sell him and if Monaco hadn't given us the €5m in cash at the time, we would have been in big difficulty."