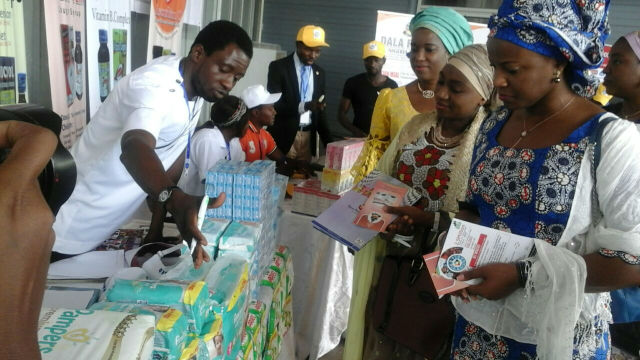 Moved by Her Excellency, Mrs Aisha Muhammadu Buhari's Launch of the Get Involved Campaign of her Future Assured Initiative to rally contributions from Nigeria's populace to address heightened incidence of malnutrition cases in IDP Camps, the Senators Wives Forum has contributed towards fortified foodstuffs and body care products for weaned infants and children at the various IDP Camps located in different parts of the country.
The Senators Wives Forum, established in 1999 is a friendly society sustained by individual contributions from its members. Comprising Spouses of Senators in Nigeria's upper legislative chamber in the 8th Senate, it is currently chaired by Her Excellency, Mrs Toyin Saraki, the Wife of His Excellency, Bukola Saraki, the President of the Senate.
Representing the Senators Wives Forum at the Get Involved Campaign grounds were Haj. Hadiza Ali Wakili from Bauchi South and Mrs. Louis Gyunka from Nasarawa North Senatorial Districts respectively. They were accompanied by the Executive Coordinator of the Senators Wives Forum, Ms. Inimfon Etuk.
In her remarks, leader of the delegation, Haj. Hadiza Wakili who spoke on behalf of the Forum Chair and Wife of the Senate President, Mrs Toyin Saraki,said "we are moved by the rising and alarming reports of hunger, starvation and malnutrition of our displaced citizens, especially young infants and children, and hope our contribution will go some way to alleviate the heavy public burden of care for our sisters, brothers and children in these displaced communities, as canvassed by the Wife of The President, Federal Republic of Nigeria, Her Excellency Mrs Aisha Buhari."
The delegation from the Senators Wives Forum was given a tour of all the products that were being showcased as the attendants took time to explain the nutritional values and content of all the products on sale before the Forum made its product selection and donation. [The Senators Wives Forum]