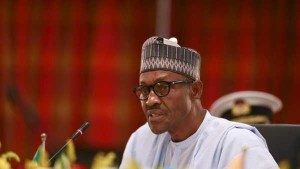 President Muhammadu Buhari has again blamed the depleted state of the nation on the Peoples Democratic Party (PDP).
He said after 16 years that the party was in power, his administration inherited no savings and infrastructure.
The President said this in statement signed by the President's Senior Special Assistant on Media and Publicity, Malam Garba Shehu and issued to newsmen in Abuja on Monday, September 12.
Buhari said: "We should thank God this year; the report I'm getting, which is very pleasing, is that we will have bumper harvest this year.
"I want Nigerians to realise that what this government inherited after 16 years of PDP government was no savings, no infrastructure, no power, no rail, no road and no security.
"Nigerians can see what we have done to Boko Haram and what we are doing to resolve the problem in the Niger Delta."
He further stated that before the 2015 elections, the All Progressives Congress (APC) identified three major problems confronting the country.
"The first is security; we need to sufficiently secure our country and to manage it well," he said.
"The second is economy, especially job for the youths and fighting corruption which is continuous.
"For the youths, graduates and non-graduates who are interested in agriculture, the Federal Ministry of Agriculture in collaboration with the Central Bank are doing something to provide employment for them.''
According to the statement, the President is observing this year's Eid holiday in his native home Daura, Katsina State and billed to return to Abuja after the two-day public holidays.