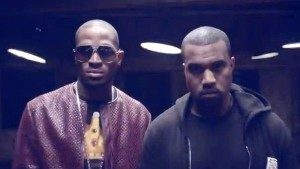 There must have been so much on Kanye West's mind (there's always a lot on Ye's mind). Yeezy was spotted deeply lost in his thoughts while on vacation with Kim Kardashian and their two children in Miami.
The award-winning rapper looked forlorn and disinterested as he sat close to Kim, who was busy cradling little Saint.
It only took his three-year-old daughter, North getting dumped on Kanye's laps before he became aware of his surroundings.
What's the issue this time 'Ye?