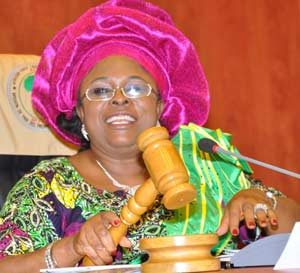 Former First Lady, Patience Jonathan has filed a $200 million suit against the Economic and Financial Crimes Commission (EFCC) after the agency blocked some bank accounts linked to her.
Mrs Jonathan filed the case on Thursday, September 16, 2016, at the Federal High Court in Lagos, according to The Guardian.
Other defendants in the case are Skye Bank, former Special Assistant to ex-president Goodluck Jonathan on Domestic Affairs, Waripamo-Owei Dudafa, Pluto Property and Investment Company Limited, Seagate Property Development and Investment Company Limited, Transocean Property and Investment Company Limited and Globus Integrated Service Limited.
The bank accounts were opened for the above named companies, who have pleaded guilty to charges of money laundering filed by the EFCC.
Mrs Jonathan had earlier claimed to be the owner of the money in the restricted accounts.
She has also accused the EFCC of plotting to steal her hard-earned money and hiring mercenaries to plead guilty to the charges against the companies.