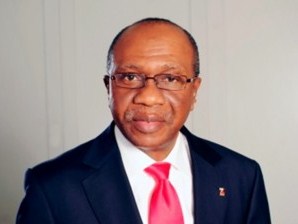 Central Bank of Nigeria (CBN) Governor, Godwin Emefiele has said that the worst of the current economic recession is over.
Emefiele also assured Nigerians that the recession would be completely over by December 2016.
The CBN governor made the comments on Sunday, September 18, during a meeting with members of the Nigeria Newspaper Proprietors Association (NPAN) in Lagos.
"I repeat, the worst is over, the Nigerian economy is on the path of recovery and growth," he said according to Vanguard.
"Trust me, if you are standing as a bystander, you are losing by being a bystander. Join the train now before the bus leaves the bus station. Let me repeat myself, we are already in the valley, the only direction for us to go is up the hill.
"Government is doing everything possible to ensure we move up the hill as quickly as possible. I am optimistic that with the action being taken by government, the monetary and fiscal authority, by the end of the fourth quarter of the year, Nigerians will see that the economy has started to move up the hills, out of recession," he added.
Finance Minister, Kemi Adeosun had earlier said that Nigeria was "technically" in a recession.
She later faced criticism for supposedly saying "recession is just a word". Ms Adeosun has since denied making the comment.