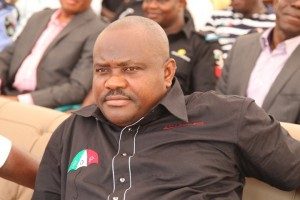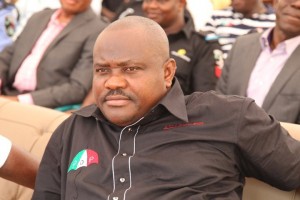 Rivers Governor, Nyesom Wike has shed more light on what happened during the attempted arrest of a Federal High Court judge in the early hours of Saturday, October 8, 2016.
Wike,while flagging-off the construction of Abua-Emoh-Egbolom road in Abua/Odual Local Government Area, called on Rivers people to rise up against all anti-democratic forces.
The Governor also said he is prepared to sacrifice his life to defend Rivers state against any form of external aggression.
According to him,"This is the time to say no to illegality. If they are testing the waters for rigging and mayhem, it will not work.
"I told the security operatives who planned to abduct the judge that instead of this impunity, you better take my life. I will always protect the interest of this state.
"When God gives you an assignment, he will give you the enablement to complete the assignment. Rivers people must be ready to fight any form of injustice. I am ready to defend Rivers State with my life."
Commenting on the action of the DSS, Senior Advocate of Nigeria (SAN), Mike Ozekhome said the security operatives will clampdown on the media soon.