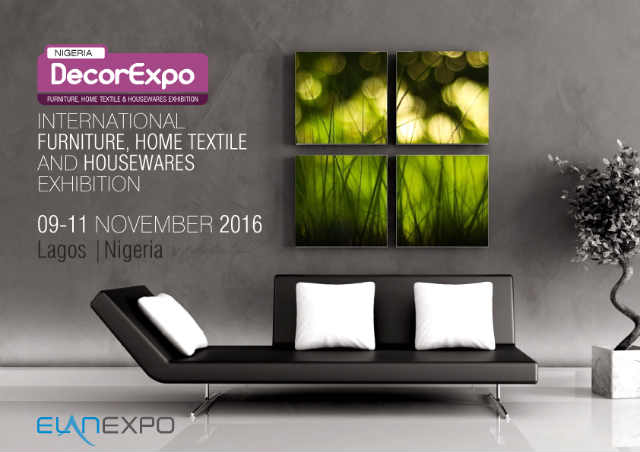 Nigeria Decor Expo 2016 is meeting its visitors at Landmark Centre. Nigeria Decor Expo, the unique sectoral exhibition in Furniture, Home Textile and Houseware sector, will be held on 09-11 November 2016 in Landmark Centre, in Lagos, Nigeria.
Organized by Atilim Fairs and Elan Expo
The exhibition is organized through successful cooperation of Atilim Fairs and Elan Expo, whose portfolio counts for more than 30 exhibitions annually and covers most dynamic sectors in the region. Nigeria Decor Expo 2016 is considered a meeting point for experts from various regions of Nigeria and other countries of the region, a great place to pick up latest trends and technologies in furniture, home textile and houseware, stimulate new ideas, foster business partnerships.
International Brands from All Over the World
Decor Expo 2016 will host thousands of trade buyers and many participants. As the leading trade event for the decoration, furniture and home textile industry, DECOR EXPO has always been an ideal platform for the exhibitors to present their latest products, innovations and solutions to the professionals, including the contractors, wholesalers, dealers, architects, etc.
All kinds of furniture; Wallpapers & Wall Decor; Paints; Natural and Artificial Stones; Upholstery Fabrics; Curtains, Tulle, and Roller Blind Systems; Table Linens; Towels, Blankets; Pique, Bed Linens, Pillows; Floorings, Floor Coverings; Tableware, Kitchenware; Decorative Products; Lights & Lighting, and more products that will suit for you with reasonable prices, will be exhibited in this lucrative event.
SPECIAL CAMPAIGNS, SURPRISE GIFTS AND DISCOUNTS ARE WAITING FOR YOU!
NIGERIA DECOR EXPO helps you to analyze latest trends in Furniture, Home Textile and Houseware sector and you can compare hundreds of products. Visitors will have a chance to have B2B meetings with sector leaders. There also will be special campaigns, surprise gifts, and discounts.
If you want to be a part of this lucrative project please visit Nigeria Decor Expo between 10.00 and 18.00 on 09-11 November in Landmark Centre.
NIGERIA DECOR EXPO 2016
International Furniture, Home Textile and Houseware Exhibition
09 – 11 November 2016
Landmark Centre
Lagos/Nigeria
http://www.nigeriadecorexpo.com
info@nigeriadecorexpo.com
+90 212 273 18 88