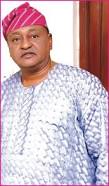 Veteran Nollywood actor, Jide Kosoko has criticized the poor level of discipline exhibited by movie practitioners.
Kosoko thinks there has been a great decadence in the attitude of people in the film industry when compared to the 80s.
The actor, who is a Board of Trustees member of the Theatre Arts and Motion Pictures Association of Nigeria (TAMPAN) disclosed this in an interview with the News Agency of Nigeria (NAN).
He said, "In the 80s the Nollywood practitioners were well disciplined, the public respected them for that attitude, but these days the reverse is the case."
"We will do all we can to make sure that discipline is being maintained among the members of the association."
"We need to maintain our integrity because we are public figures."
Jide Kosoko began his acting career by featuring mainly in Yoruba movies. He however removed the stereotype associated to him by featuring in English films.
He has featured in films such as "The Figurine" (2009), "The Meeting" (2012), "Last Flight to Abuja" (2012) and many others.