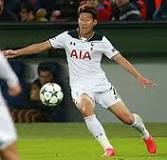 Tottenham forward Son Heung-Min says former Premier League stars Ruud van Nistelrooy and Rafael van der Vaart helped him to become a success in European football.
Son, 24, moved to Hamburg from Seoul as a 16-year-old and spent seven years in Germany, joining Bayer Leverkusen in 2013. Within six months of leaving home, he had learned German but he was homesick and without his parents, who now live with him in North London.
In January 2010, when Son was 17, Van Nistelrooy arrived at Hamburg from Real Madrid and recognised the South Korean's potential in his first training session. Eighteen months later, another Dutch legend Van der Vaart signed from Tottenham, where Son is now shining.
"At 16, it was difficult. When I came I knew no English and no German, nothing," Son said ahead of his return to Leverkusen in Tuesday's Champions League group game.
"But I wanted to play in Europe, this was my goal and I came to achieve my goal. The first year was really difficult because I didn't know any friends. No-one came with me. I felt so alone and so humble because everyone was helping me, but it was tough.
"Sometimes I missed Korea. It's my home and everyone misses their home when they are not there. But I wanted to play professional football in Europe and this was what I had to do.
"Ruud van Nistelrooy helped me a lot. He saw my first training session and he talked to me. He told me I was a good player. He gave me confidence and I want to thank him for that. We had a really good team and were successful for a time with him.
"Also Rafael van der Vaart came and he helped me. He told me more about English football and how tough it was. I was only young. I listened to him and tried to learn from what he was saying."
Spurs' only other Champions League campaign in 2010-11 was lit up by Van der Vaart, Gareth Bale and Luka Modric, and the club are now looking to Son to be influential in the competition.
He was substituted at half-time of the 2-1 defeat to Monaco but scored the winner at CSKA Moscow, one of five goals in six starts this season, and he will be the centre of attention on his return to the BayArena on Tuesday.
Son left the Bundesliga club in uneasy circumstances after missing a Champions League qualifier, reportedly through illness, days before joining Tottenham for £22 million in August 2015, but he says he will not celebrate another goal on Tuesday.
"It's a special game for me because I played there for two years, I had some great times there and made so many friends, also. I'm very excited to be going back," said Son, who is expected to play from the start after being a substitute against West Brom at the weekend.
"I'm not sure how it's going to be. For me, it will be good to see the fans. I will be happy to see them and the players and the coach.
"Nacer Chadli didn't celebrate when he scored against us [for West Brom on Saturday] and if I score against them I will not celebrate. I respect them too much. My two years there was a good time for them and also a good time for me. I am really happy for them. I want to show respect."
The South Korea international started just 13 league games last season and he asked manager Mauricio Pochettino if he could return to Germany after interest from Wolfsburg.
"The first year [in England] was difficult," he admitted. "I spent a long time in Germany and it's a different game in England. It was a new experience. It was a bit tricky, but this season has been much better. I've had some good games and I'm looking to improve with the team and the coach behind me.
"I play with more confidence [now]. My teammates are behind me, pushing me more and I believe more in myself. I wanted to play well and this thinking has motivated me more.
"It's not just me, Spurs the whole team have to make an impact. We're just focused on every game. We go everywhere to get three points and we're looking forward to just winning the game.
"It's a special game and a special day for me tomorrow against my ex-team. My goal is to get three points. It will be a difficult game. Leverkusen a good team, very high quality and my goal is get three points. We don't come to lose the game. We come for three points and that's it."