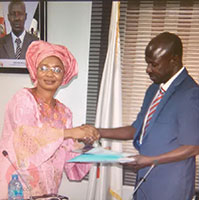 The Presidential Advisory Committee Against Corruption, Prof Itse Sagay has urged President Buhari to re-submit the name of Ibrahim Magu to the Senate.
Magu, the acting Chairman of the Economic and Financial Crimes Commission (EFCC's) confirmation was rejected by the Senate following some allegations raised against him in a report authored by the Department of State Services (DSS).
A presidency source who spoke to Premium Times said Sagay described the allegations against the EFCC boss as weak and unsubstantiated.
He also said "That it seems it was just internal politics and it was interest groups fighting back to stop the man's work.
"And that because there is no proof that Magu took money or compromised himself in any way.
The Senate majority leader, Ali Ndume told newsmen that Magu's confirmation was not rejected but stepped down till the security issues raised are sorted out.
According to reports, the DSS boss, Lawal Daura and the embattled EFCC boss have been at a loggerheads for a while.
You will recall that the EFCC openly criticised the DSS' handling of the corrupt judges' cases, saying the agency would have handed it over to them.