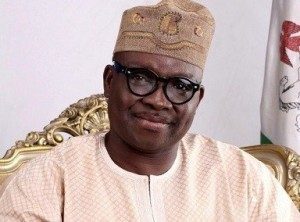 Minister of Mines and Steel Development, Kayode Fayemi has condemned Ekiti State Governor, Ayo Fayose for the negative prophecies he recently made about Nigeria.
Fayose, on Friday, December 23, published a list of 22 things that he predicted would happen to Nigeria in 2017, one of which was the naira selling at N600 to the dollar.
Fayemi made his comments after a special Christmas service held in the Oye Local Government Area of the state.
"If someone has made 22 predictions about his own country and none is positive or good, you can be sure the predictions are for the person making them," the minister said according to The Nation.
"For me, 2017 will be a year of astounding buoyancy, greatness, fulfillment and accomplishments.
"It is true recession has made things difficult for everyone , but we can see that is already giving way to noticeable stability which will soon yield results across all sectors of the economy," he added.
Fayemi also said the Federal Government is working hard to fix the economy and make life easier for Nigerians.