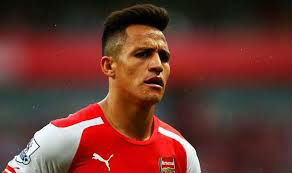 Former Manchester City boss Manuel Pellegrini has told ADN Radio in Chile his club had wanted to sign Alexis Sanchez in 2014 but could not do so due to financial fair play (FFP).
Arsenal signed Sanchez, 27, when he left Barcelona in 2014, but Hebei China Fortune boss Pellegrini said City would have been keen to sign the forward had it not been for the FFP punishment UEFA had imposed that summer.
"He is one of the best in the world and he proves it every day," Pellegrini, who left City in the summer, said of his fellow Chilean. "He was always an important player that we considered bringing to City.
"If we didn't acquire him before he signed for Arsenal it was because the club was punished over financial fair play and we didn't have the quota.
"Alexis is a complete winner and I hope he maintains his level as long as possible."
Sanchez has excelled at Arsenal but his contract is due to expire in the summer of 2018 and he has yet to agree new terms, although current City boss Pep Guardiola recently denied suggestions he had spoken to the Chile international about a move.
The player has also been linked with a move to China, and Pellegini had joked earlier this week: "If he wants, we have a club in China, and he can join us quickly."
City also continue to be linked with Barcelona forward Lionel Messi and Pellegrini suggested a deal could be possible.
"In football, nothing is unreal anymore," he said. "The amount of money that it [the sport] moves is greater every day. The problem is taking him out of Barcelona."
The former Real Madrid boss also praised Cristiano Ronaldo, who won the Ballon d'Or for the fourth time in his career this week.
"I'm a great admirer of Cristiano, whose outside image differs to what he really is," he said. "He was always the first one to arrive and the last one to leave training. What he has done is unrepeatable and it's unjust to compare him with Messi."