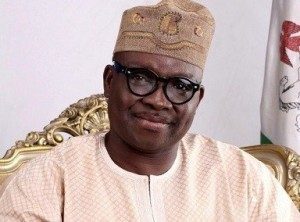 Mrs. Feyisetan Fayose, wife of Ekiti State Governor, on Tuesday, January 3, wished shame on her husband's enemies in 2017.
She prayed that enemies posing as friends of her husband's government will be exposed in the new year.
The Ekiti First Lady stated this during this year's edition of inter-religious Thanksgiving service organised by the office of Senior Special Adviser to the Governor on Religious Matters, Pastor Seyi Olusola, in Ado Ekiti.
"Every enemy pretending as friends, close to the government of Ayo Fayose and working against the government, the Lord will expose them with shame this year. Enough is enough," she said.
She urged the people of the state to disregard negative predictions against the Fayose administration, noting that God has assured her not to fear anything in 2017.
"Don't listen to whatever prophesies you are hearing from anyone. Anybody can say whatever they, but God has given all power to turn every negative utterances to your favour. Confess positive things about Ekiti and it shall be so, no matter what anyone says.
"The Lord said He will help us and we should fear not. I pray the Lord will give us the grace and enablement to hold these words and confess them daily."
The First Lady added that God granted her family victories over their battles in 2016.
"My testimony is unending because God has been good to me gracious and wonderful to my family. I will lose count in tabulating them; in all families, He favoured my family, favoured my husband and me among all men and women, It is not to say we are the most perfect or wonderful it is just because He has chosen to love us," she said.