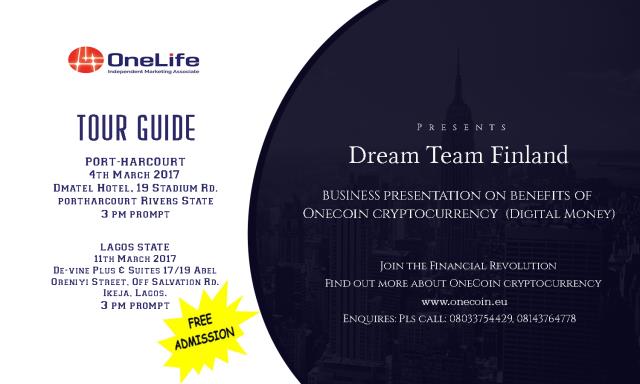 Dream Team Finland is again visiting Nigeria for the second time after the successfully OneCoin Nigerian Tour 2016 that helped many Nigerians to join the financial revolution, the trend of new money!
Due to the 2016, there were overwhelming interest from other Nigerians who are interested in knowing more about cryptocurrency, most especially OneCoin and its benefits.
We at the Dream Team Finland listen and will be visiting Nigeria in March 2017 for another exclusive seminar which centres on "Business Presentation of Benefits of OneCoin Cryptocurrency". See our seminar schedules below:
Port Harcourt: 
Venue: DMatel Hotel, 19 Stadium Rd., Port Harcourt, Rivers State
Date: Saturday, 4th March, 2017
Time: 3:00pm prompt
Lagos: 
Venue: De-Vine Plus & Suite, 17 & 19 Abel Oreniyi Street, Off Salvation Rd, Ikeja, Lagos State
Date: Saturday, 11th March, 2017
Time: 3:00pm prompt
For inquiries, call 080 3375 4429 or 081 4376 4778
Explore the following to have some background information about OneCoin cryptocurrency:
See you at the seminar and do inform your contacts so that they also benefit from the world of cryptocurrency!