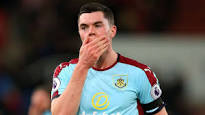 Burnley defender Michael Keane has told the Guardian he had not been eager to leave Manchester United permanently but had no regrets over his decision to join the Clarets.
Keane, linked with a move back to his old club during the transfer window, said United's coaching staff under Sir Alex Ferguson had indicated that he was a likely first-team player of the future.
However, he added that "it all changed" once Ferguson left Old Trafford in 2013 to be succeeded by David Moyes and then Louis van Gaal.
"The coaches used to say that sometimes they would send other players out on loan to help them get a move, but that was never the case with me," he said.
"They saw it as experience for me because they thought I was good enough to get in the first team."
When Keane went on loan to Burnley in September 2014 he saw it as an opportunity to show Van Gaal that he was ready for the first team.
The 24-year-old said that when a breakthrough failed to arrive he "didn't really want to go permanently at first" but agreed a full-time £2 million move in 2015.
Speaking about his initial loan spell, he said: "I did well — it just wasn't enough [for Van Gaal]. So I ended up signing permanently and I was really happy to do that because I've loved it ever since.
"I do feel sometimes that things could have been different [at Old Trafford], but the move has definitely been the best thing for me."
Burnley face non-league Lincoln City at home in the FA Cup fifth round on Saturday.