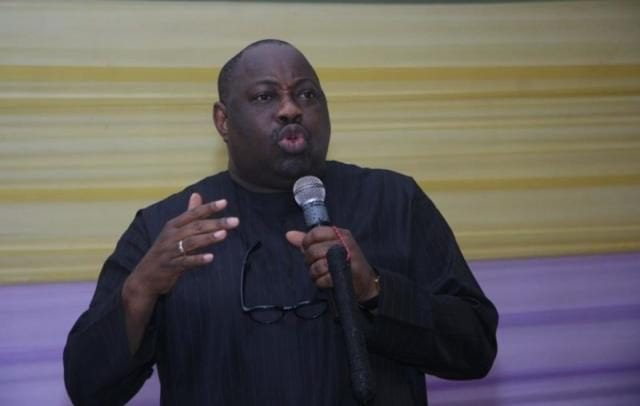 Nigerian publisher, Dele Momodu, has asked why President Muhammadu Buhari is ashamed to disclose his ill health to the world.
The Ovation International publisher says President Buhari has shown over the last two weeks that he is uncomfortable disclosing his actual ailment.
In his latest article published on Saturday, titled 'President Buhari and his London visitors', Momodu lamented how dignitaries are trooping to London to visit the President.
He said "the patrons are very important personalities from Nigeria who have turned the supposed illness of President Buhari into a stage play.
"At the rate these medical tourists are going, Nigeria may be empty of all its fat cats as they jostle to pay obeisance lest anyone accuses them of nonchalance and of plotting against the President or wishing him dead".
He wrote further: "For God's sake, it is not a crime to fall sick. We all do, in various degrees, from time to time. At over 70 years on the surface of this earth, no one would expect President Buhari to be in the most perfect state of health.
"It is a miracle that he survived the harrowing vicissitudes of life after he was thrown into a dungeon in 1985 during the military coup that toppled his dictatorship. He also had to contest some bloody elections a record four times before fortune smiled at him. Naturally, all of these events would have combined to conspire against his health.
"So why should he be ashamed of telling the world that his health is failing and that he would have to attend to it as frequently as possible? No one needs to consult a doctor or a prophet to know our President is not very well at this moment and that he deserves our understanding and prayers.
"Even if we thought otherwise, his London visitors have virtually confirmed our worst fears. Aso Rock media gurus who have been regaling us with tales of how well and fit the President is should have worked harder on their powerful friends to stay in Nigeria and wait to flood the airport whenever it pleases God to bring him back in one piece to Nigeria.
"Rushing to London to mark register is absolutely unnecessary and a total waste of scarce resources. The London visitors have wittingly or inadvertently attracted more attention to the President's frailty.
"I have taken time to study some of the pictures that have emerged from the President's shrine in London and most of them did not do justice to whatever it is some people are trying to cover up by fire by force.
"The pictures have shown clearly why the President cannot just yank himself off from London and return home pronto as his tedious job demands. It is very obvious that the President is no longer in London of his own free volition, even if he ever was at some point. Someone should please beg the Good Samaritans to allow the President receive his medical treatment in peace and hopefully recuperate handsomely and adequately.
"Only his immediate family should be allowed access to him at this moment. The visitors actually make it look like they are on an espionage mission to ascertain the true state of the President's health in order to plot, position and manipulate what seems an impending power game, sooner or later".