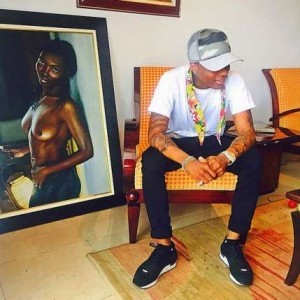 Man of the moment Wizkid recently granted an interview where he spoke about his music, working with Drake, his parents and how he hopes to make an impact in the American industry
– Wizkid also revealed that he hopes to work with international musicians like Sia and J Cole – As amazing as that sounds, some Nigerians still took the time to mock Wizzy's accent saying he now sounds British Man of the moment Wizkid recently granted an interview where he spoke about his music, working with Drake, his parents and how he hopes to make an impact in the American industry.
He also revealed how music is the only thing bringing Nigerians together, we gathered.
How he plans to succeed in the US "Music is a universal language, you don't need to understand what someone is saying to feel the music or love the music. For me, I feel like it's just gonna bring this industry (Afrobeats) mainstream. It's going to do a lot, it's going to contribute, and probably take over the world.
Showing the world the real Africa "No one has been able to take it there and show real Africa…and show what it's about. There's so much beautiful things in Africa. Africa is so beautiful, and that's what I'm trying to do with my music now. Everyone has a little bit of Afropop sound-inspired. Look at Drake on his last album (Views); look at Alicia Keys with what she is doing right now with the sound on In common. Everything is coming back home. From my videos; I'm shooting at home, making sure we have African prints in my videos, I'm making sure I have my stuff tailored.
I'm always strategic with it, so that the world can see it in a great light, and I feel like I can do that. How he makes his international 'collabos' "So, before I get in the studio, before we make a record, we have to be friends, we have to talk, we have to communicate. If I feel like we have a connection and it sounds amazing, I won't do it. I test their knowledge. I be like 'What do you know about this music?' Like (winks) you know what I mean. 'What do you know about my records?'
Like sometimes, it's 'have you heard anything about African music? What you play to me or what you tell me about what you know, I'll be able to say 'It's alright, let's do it.'" READ ALSO: How do you steal so much and sleep well at night? – Nigerian celebs react to EFCC's discovery of massive amounts of cash How the music is doing better than the economy: "For me right now, I would say it's the music that is really giving the people joy. The economy is not amazing, the government can be doing better for the people. But the music is the only thing that is really attracting the people like worldwide 'there's something in Africa'."
Music broadcast house, MTV Base, joined in on it, looking to appropriate all of that baseless and denigrating social media conversation into an engagement post for their platforms. But Wizkid was quick to react.
"So disappointed in y'all for bringing this up. After everything D'banj done in the game? Please show some respect." Wizkid tweeted. The offending MTV Base tweet was later deleted.
Subsequently, D'banj slid into the discourse but chose to congratulate Wizkid and appreciate the efforts of the original Starboy.
"I'm so proud of you @wizkidayo ! Africa to the World!!! This is why we took the Leap," he wrote, drawing a response which Wizkid which read; "you started it all king. God bless you Eja Nla! Elder!"
This should never have happened in the first place. Fans have no basis for comparing one of Nigeria's pop legends with Wizkid. D'banj did it for another era and time.
D'banj was a visionary who saw the future of Nigerian music, and the possibility that collaboration will be the open up the space. His actions opened broke the glass ceiling and granted mental access to the wider market for the younger folks.
2011 was a crucial year for Nigerian music. It was the year when the rulers of pop music made a decision that was to cost them their dominance. D'banj and Don Jazzy, co-owners of Mo'Hits Records had found a way to meet up with Kanye West, where they sold him the Nigerian dream and sound. Kanye did buy it.
Although the deal led to the split of Mo'Hits records, and the decline of D'banj's powers, what it did was convince a younger generation that our music has the potential to achieve international collaboration. D'banj, in his prime, collaborated with Snoop Dogg and Kanye West – and both artistes featured in his videos.