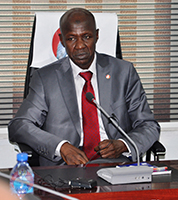 The Economic and Financial Crimes Commission (EFCC) has traced the sum of N6 billion to a former Peoples Democratic Party (PDP) governorship candidate in Niger state.
The money was traced to three bank accounts belonging to Kantigi Liman, who is a former Commissioner for Local Governments.
"The discovery brings to N6 billion traced to accounts held by the politician and companies linked to him. The Commission had some weeks earlier traced N 4 billion to two accounts in another bank, both linked to Liman," an EFCC source told Vanguard.
"The first account belongs to Sadiq Air Travel Agency Limited and the second to Kantigi. Sources at the Commission however are of the view that the politician who was a governorship aspirant of the Peoples Democratic Party in the 2015 election, is dodging the operatives and must be fished out to face interrogation.
,
"He is on the run and all efforts to track him down have been futile. The next option left for the Commission is to declare him wanted," the source added.
The funds are believed to have been taken out of the Niger State Local Government Joint Account.