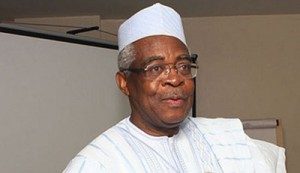 The Nigeria Police Force has, in strong terms, denied being in possession of the 2017 budget documents.
The denial is in reaction to the allegations that the police officers who raided Senator Danjuma Goje's residence took away the documents.
Police operatives last Thursday ransacked Goje's Abuja home after a tip-off that criminal activities might be ongoing in the house.
The force said the raid was part of a wider investigation of the ex-Gombe State governor.
However, Goje, who is the Chairman, Senate committee on appropriation, blamed the delay in the passage of the 2017 budget on the raid.
Speaking during plenary on Wednesday, April 26, Goje said the Police left with valuable items relating to the 2017 budget.
He said, "At the end of the raid, they left with N18 million; $19,000; 4000 Saudi riyal. The police also left with my laptop, 18 files from my office.
"The Police truncated work on 2017 budget by the invasion of my house. Nigerians should therefore blame the Police for the delayed passage of the 2017 budget."
But in a statement released by the Police on Thursday, April 27, it said no document relevant to the 2017 budget was taken from Goje's house.
It described the senator's statement as "a deliberate distraction to cast aspersion on Police investigation to pervert the end of justice."