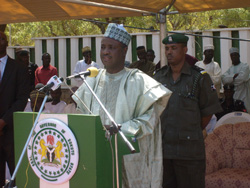 The Sokoto State Government has earmarked N1.4 billion for the completion of Murtala Muhammad Specialist Hospital in Sokoto.
The News Agency of Nigeria (NAN) reports that the state Commissioner of Health, Dr Balarabe Kakale, disclosed this in Sokoto on Tuesday while fielding questions from newsmen on the second anniversary of Gov. Aminu Tambuwal.
Kakale said the projects include the completion of the phase two construction of 47 staff quarters, two wards and landscaping, among others.
The commissioner further disclosed that the state government would convert the hospital to a teaching hospital upon completion.
He said: "In the period under review, capital projects embarked upon by the present administration have reached various levels of completion.
"The state governor has given proper attention to the contractors handling various projects, with a view to complete them.
"The projects include repairs and renovation of maternity unit of Specialist Hospital, Sokoto, as well as General Hospitals in Illela and Wurno at N282 million.
"In the same vein, upgrading of Primary Health Centres to general hospitals at Sabon Birni, Dange and Kware gulfed N586 million."
Kakale also said that the state government has approved contracts for the renovation of general hospitals at Yabo and Dogon Daji at N201 million.
He also said that the state government had procured chemicals and sprayers worth N48.4 million for the elimination of mosquitoes as well as other insects in Sokoto metropolis.
On human resource for health, Kakale said that the state had during the period under review sponsored 32 medical doctors, 36 medical laboratory scientists, 318 general nurses and enrolled 22 pharmacists.
He further disclosed that the state government had procured assorted drugs and medicament worth N175 million.
Kakale explained that the drugs were used for the treatment of gastroenteritis, measles and cerebrospinal meningitis in the state.